Today, 529 plans like Rhode Island's CollegeBound Saver are a popular way for parents and grandparents to save money for colleges and post-secondary vocational schools. These plans offer many benefits, including some unique tax advantages; in fact, the name comes from Section 529 of the Internal Revenue code.
Specifically, 529 plans offer:
Tax-deferred investment growth
Tax-free distributions for qualified expenses, like tuition, room and board, computers and laptops, and books or even things like tools if required by the program1
Gift- and estate-tax benefits
Control by you over how assets are used
Flexibility to use at eligible colleges, universities and vocational schools worldwide2
Saving for college, not for taxes.
Unlike taxable college savings vehicles, 529 contributions can grow free of federal and state taxes.1 The difference can be significant, as shown in the chart below.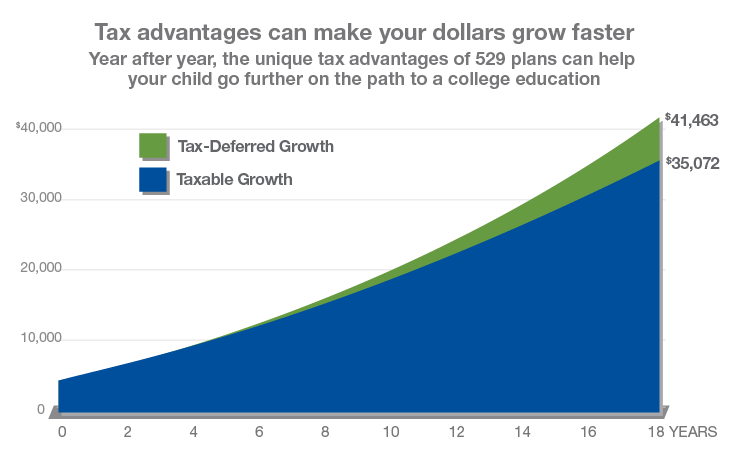 If you open a 529 account with an initial investment of $2,500 and contributed $100 every month for 18 years, there could be over $6,300 more for a qualified distribution than the same investment in a taxable account.1
Assumptions: $2,500 initial investment with subsequent monthly investments of $100 for a period of 18 years; annual rate of return on investment of 5% and no funds withdrawn during the time period specified; and taxpayer is in the 30% federal income tax bracket for all options at the time of contributions and distribution. This hypothetical is for illustrative purposes only. It does not reflect an actual investment in any particular 529 plan or any taxes payable upon distribution.